Business Lounge
In an effort to elevate service quality and diversifying our products, Bamboo Airways hopes to bring the best customer experience, fitting our "More than just a flight" mantra. Starting June 11th, Bamboo Airways' passengers will have an opportunity to experience the Business Lounge inside Tan Son Nhat Airport's (Ho Chi Minh City) domestic departure terminal.
Business Lounge: Le Saigonnais – Tan Son Nhat Airport's domestic departure
Opening Hours: From 4:30am until last flight of the day.
Price: 450,000 VND/guest/3 hours.
Eligible Passengers:
– Bamboo Airways' Business passengers (complimentary);
– Passengers who purchased Bamboo Airways' Business Lounge voucher;
– Bamboo Club members (complimentary)
Le Saigonnais is a business lounge boasting distinct Saigonese essence, combining traditional and modern touches of local design. The finest details of Saigonese vibe and dynamism is captured in this lounge's overall architecture. Every touch of decoration is reminiscent of Saigon's lifestyle, highlighted through its atmosphere, food and traditional áo dài.
Guests are welcomed with an uniquely sincere Saigonese manner, which draws them closer to this vibrant city and acts as a reminder before their departure. Inside Le Saigonnais, the culinary corner emphasizes Saigon's bold presence through its distinctive food such as breakfast meals, snacks, street foods…which will satisfy passengers seeking to discover the local food scene. Its interior design is highlighted by a green garden corner and wicker doors, masterfully arranged to offer maximum privacy for guests without interrupting with the interior flow.
Instruction for passengers in selecting Business Lounge during booking :
After completing the "Flight Booking" and "Passenger Information" phase for domestic flights originating from Ho Chi Minh City (SGN), passengers can select the Business Lounge option in the Extra phase. At this point, a price of 450,000 VND for this service will be displayed, after which passengers may proceed to the payment phase.
Guiding photo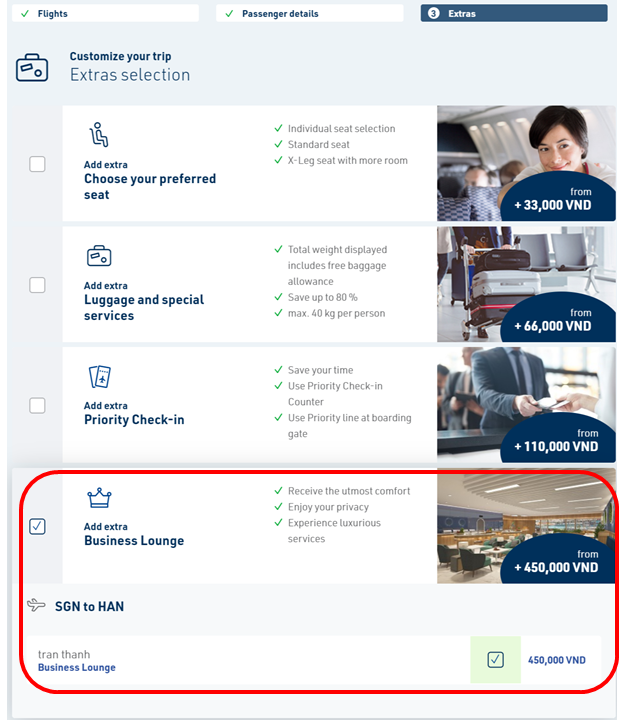 * This service is complimentary with the purchase of a Business Class ticket, as well as for Bamboo Club members.